There is a great, local need for cozy clothing items in our wintery weather. Many hands make light work and together we can make a difference. Last year our library patrons were very generous with their time and talent, so let's do it again! Use your knitting skills to warm community members who could use something special. Your donations will be distributed by the Newark-Wayne Community Hospital.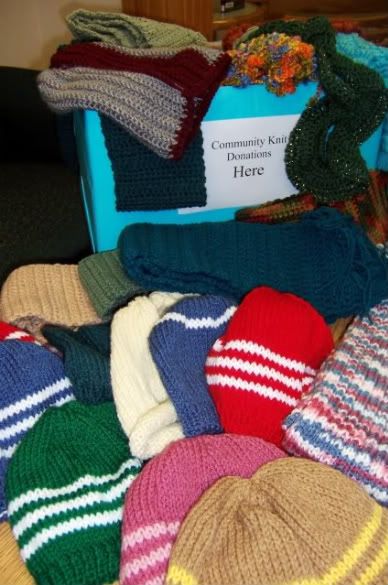 In addition to handcrafted items (hats, mitts, scarves, muffs, etc.) there is a need for heavy sweatshirts and coats, especially large and X-large sizes.
If you are feeling creative, any favorite pattern will do, but if you are looking for ideas here are simple patterns, perfect for beginners:
HATS:
Knit:
Simple cap
Beginner hat
Rolled brim hat
Crochet:
Super simple hat
Simple Skateboarder Hat
MITTENS:
Knit:
Easy Mittens
Crochet:
Vicki's Mittens
SCARVES:
Knit:
Beginner Garter Stitch Scarf
Crochet:
Simple Crochet Scarf
Questions? Ask!
Remember, the
Knit Only Knitters
group meets each Wednesday evening in the library, 6:00-8:00 PM. All are welcome to attend. Bring a project to work on and visit with friends.